Delivering 21st century, high-energy, alternative rock, The Rabid Whole gives a refreshing take on a familiar sound. Their live act has been described by Lithium Magazine as: "painting great futuristic scenery with an eerie atmosphere…instantly causes the listener to get lost in the music and then whisked away on a surreal sci-fi trip."
Set to release the highly anticipated follow-up to 2012's critically acclaimed 'Refuge', the new untitled release includes credits from music industry heavy-hitters Dave 'Rave' Ogilvie (Nine Inch Nails, Marilyn Manson), Noah Mintz (Death From Above 1979, Danko Jones) and Karl Schubach (Misery Signals).
The Rabid Whole have toured across the USA & Canada several times, played during SXSW, NXNE, CMW, Indieweek, Coldwaves festivals and shared the stage with recognized national/international acts Dope Stars Inc, The Birthday Massacre, Econoline Crush, Hinder, Apoptygma Berzerk, Bile, just to name a few.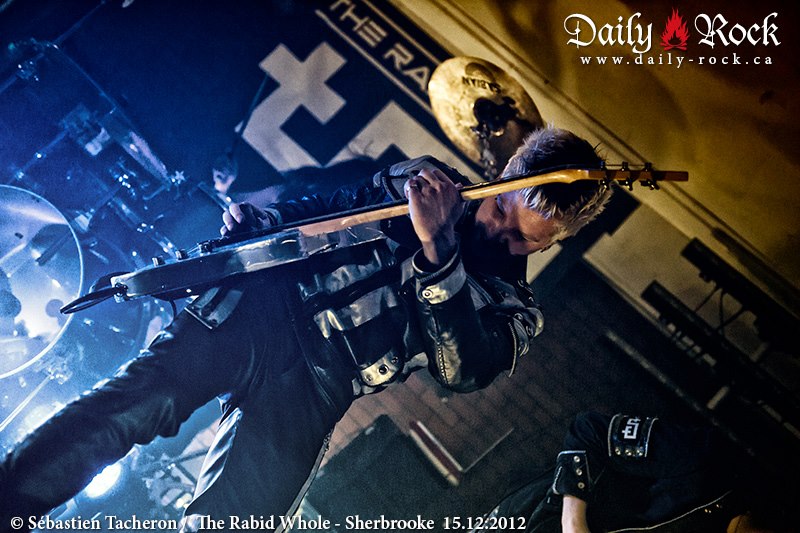 Disenchanted with playing in other people's bands, vocalist/multi-instrumentalist Andreas Weiss decided to do things his own way. Purchasing an arsenal of music and noise-making gadgets, he began writing songs for his own band's debut album. Recruiting musicians along the way, the first incarnation of The Rabid Whole was solidified.
The band quickly signed to Vancouver-based management/label Synthetic Entertainment/Sounds, released 'Autraumaton' (2009, produced by Karl Schubach) and toured Canada. With distribution in North America (Sonic Unyon) and in Europe (Danse Macabre), the singles "All The Same" and "Selfish Nature" were released to rock stations in Saskatchewan/Quebec and a music video for "All the Same" made the rounds at MuchLoud.
'Autraumaton Remixed' (2011) was then released featuring remixes by mind.in.a.box, Assemblage 23, Angelspit, 16volt, Kevvy Mental (Fake Shark-Real Zombie!) and more along with The Rabid Whole's cover of Annie Lennox's "Love Song For a Vampire." Within a week of release, 'Autraumaton Remixed' started to show up on college radio charts throughout Canada.
Left in a "do or die" scenario following the departure of several band members, Weiss relocated to Toronto, ON, along with guitarist and founding member George Radutu. "I sold my house, quit my engineering consultant job and moved…We were starting from square one again, but with more uncertainties than ever. I set up the studio in the basement of my house and got to work. I didn't leave the house for two months and wrote from the moment I'd wake up until I'd fall asleep," says Weiss. New members were recruited and Weiss negotiated the termination of all label/management contracts.
Their sophomore album 'Refuge' (2012) was released (credits Dave 'Rave' Ogilvie, Noah Mintz, Karl Schubach) to critical acclaim with The Rabid Whole touring across Canada and the USA over the next 2 years, performing at several festivals in support and releasing music videos for singles 'Future' and 'Stargazer'.
Earning the reputation of road warriors with an extremely strong work ethic and putting every effort into what they do, The Rabid Whole is stopping at nothing to get to where they want to be. The Rabid Whole have big plans for 2014, including international touring, new music videos, and hitting the airwaves again.